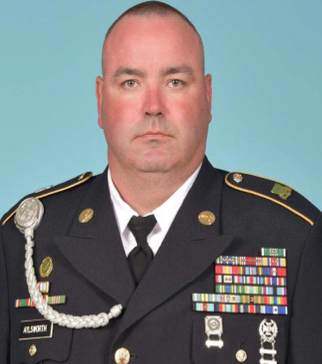 A native of La Crosse, Wisconsin, Joseph Aylsworth III has been an avid athlete his entire life. In high school, he played baseball, football, hockey, and dabbled in track and field. After high school, he attended a walk on clinic for the University of Minnesota, twin cities hockey team. After quickly realizing what it took to be a Division 1 hockey player…he knew he wasn't it!
Joe enlisted in the Marine Corps in 1996. He was assigned as a Landing Support Specialist (Shore Party) and stationed at Camp Pendleton, CA. As a Marine, he attended several schools such as the Designated Marksmanship Course, Mountain Warfare School, Jungle Evasion Survival Training and the Military Apprehension Team Course. He also served overseas with the 3rd Marine Division in Okinawa, Japan and traveled for exercises to Thailand and Korea. Joe also served with the 24th Marine Expeditionary Unit aboard the USS Saipan and traveled to Kosovo, Macedonia, Turkey, Israel, Spain, Greece, Egypt, and Lebanon. He would also deploy to Wiesbaden Germany; Camp Basra, Iraq; and Guantanamo Bay, Cuba, twice. In 1999, Joe was also involved in a helicopter crash where he suffered apparent minor injuries and returned to full duty.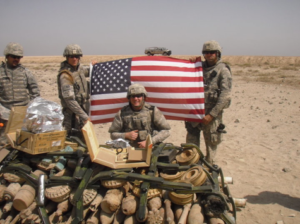 After leaving the Marine Corps, Joe went back to school and attended Western Wisconsin Technical College and then Viterbo University where he would earn his degree in Criminal Justice. In 2005, Joe enlisted in the Army and attended the Basic Military Police School at Fort Leonard Wood, MO. He was assigned to serve in the Military Police and attend several courses to include: Military Police MOS Re-Class Course, Warrior Leader's Course, Advanced Leaders Course, Senior Leaders Course, Master Resiliency Course, Battle Staff Course, and the Physical Security Course. He has served in numerous positions of responsibility from Team Leader to Platoon Sergeant and from Patrol Supervisor to his current role as Headquarters Company First Sergeant for the 327th MP Battalion, Arlington Heights, IL.
Joe was deployed to Guantanamo Bay, Cuba in 2018. During this time, he would sustain an injury requiring a more thorough examination at the Naval Hospital. It was at this point Joe would learn he had actually suffered a broken neck during the helicopter crash in 1999. After having three vertebrae and two disks replaced in his neck, he thought his military career was over. Returned stateside, he was assigned to the Warrior Transition Unit at Ft. Riley Kansas. After serious reflection and wondering where his life was headed, he met Steve McCormick, a WWUA board member giving a presentation to injured soldiers. Steve provided all the details of the Wounded Warrior Umpire Academy, but Joe wanted more. After contacting Melanie and Greg about the Academy, he attended camp in June of 2018 only weeks after his neck surgery.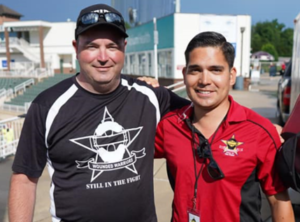 It was during camp that he found a brotherhood again. He learned just because he was injured, it didn't mean he was out of the fight. He met Soldiers, Sailors, Airmen, and Marines (even a Coastie too) who were going through the same life challenges he was facing. It was then he soon realized he could push passed his own physical and mental struggles. He also managed to learn a thing or two about umpiring baseball! After camp concluded, he was determined and demanded a re-evaluation of his fitness for Active Duty. Passing all of his physical requirements, Joe returned to full duty after only 90 days post-surgery.
Joe's reputation for confidence and motivation quickly spread in his local community and he found himself umpiring at the high school and adult independent league level within his first year of umpiring. Wanting more, he asked to return to WWUA again in 2019. He shared his experiences with the new class and renewed his relationships from the previous class. He also managed to learn some more about baseball too. While he might be a little slower than most, it took him two years to realize there was much more to the Academy than hanging out with some cool people and sharing a common bond. There actually is an opportunity for the myriad of instructors to teach you how to be a pretty good umpire!
Joe serves on the Wounded Warrior Umpire Academy board and umpires in the Emporia, KS area. Joe teaches K-12 for School District 253 in Emporia, KS and has two daughters, Makayla and Morgan who live in Winthrop, MN. This camp has truly changed his life, and he cannot wait to see what it will do for you!