Last year, UMPS CARE Charities sponsored our Wounded Warriors at every MLB home game across the nation! This year they plan to do the same thing! This is a wonderful relationship we have made with a great organization.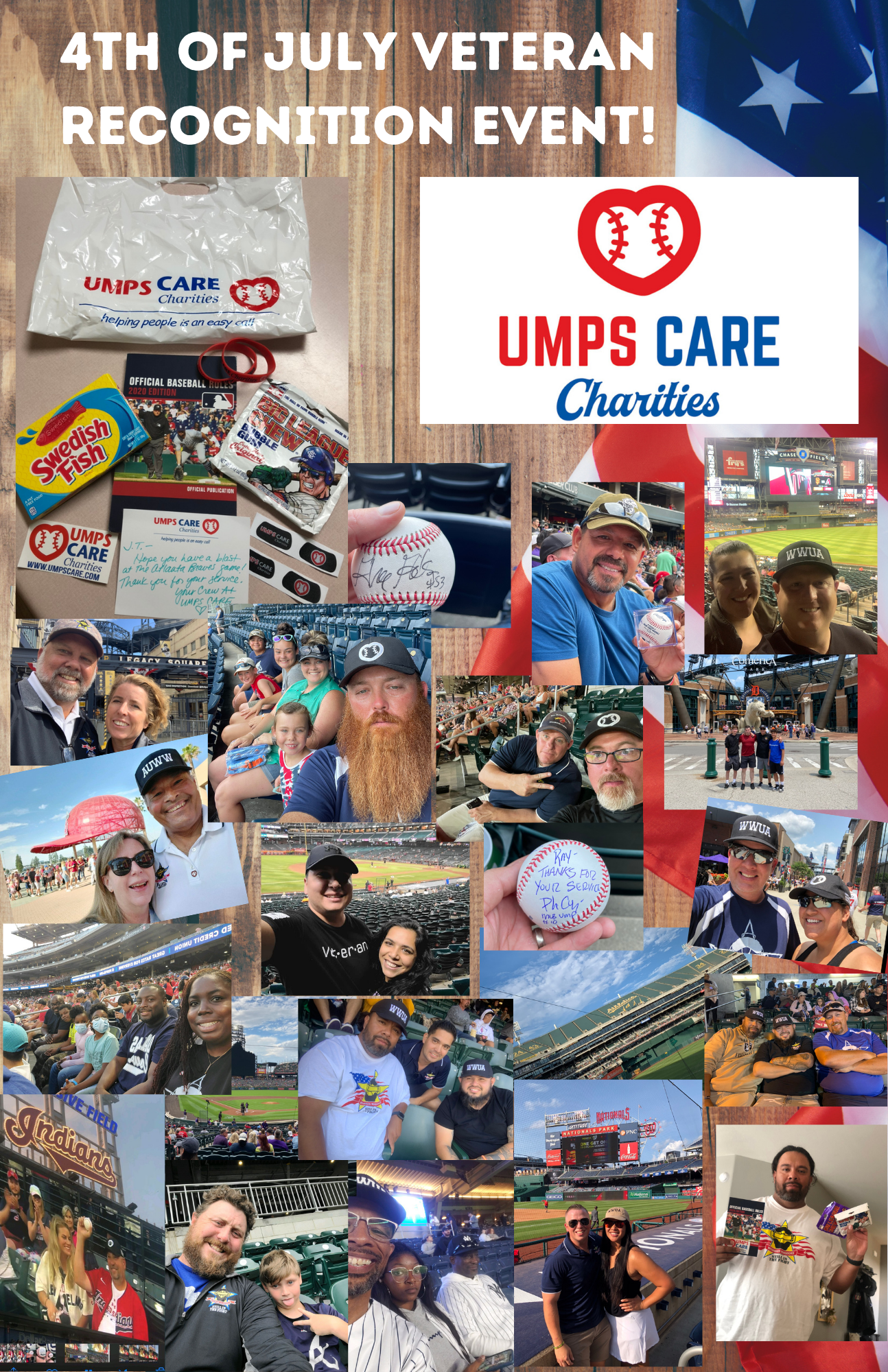 Founded in 2006 through the compassion of Major League Baseball (MLB) Umpires, UMPS CARE Charities provides financial, in-kind and emotional support for America's youth and families in need.
The UMPS CARE mission puts into action our established creed, "Helping People Is An Easy Call." UMPS CARE Charities, a 501(c)3 non-profit organization, invites kids and families from various youth-based organization with VIP baseball experiences at Major League Baseball ballparks, provides Build-A-Bear® Workshop experiences for children at hospitals across the United States and in Canada and provides college scholarships to children adopted later in life. For more information, click on UmpsCare.com.
June 28, 2021 - UMPS CARE Charities, the official philanthropy of the Major League Baseball
Umpires, is proud to honor 23 U.S. military veterans who participated in a recent clinic operated by the Wounded Warrior Umpire Academy, whose mission is to provide umpire instruction and a spirit of brotherhood that goes beyond baseball to those injured while serving our country.
UMPS CARE wanted to honor these veterans in a special way, and that is why we are hosting Wounded Warrior Umpire Academy instructors and participants tickets and game-day goody bags to Major League  baseball games in 13 ballparks over the July Fourth holiday weekend. In all, UMPS CARE worked to provide 86 tickets for these veterans and their family members.
Among the veterans we are honoring are Purple Heart recipients, a Wounded Warrior Games and Invictus Games participant, and from the ranks of lieutenants, corporals and majors. All of them are umpires.
"It is our distinct honor for UMPS CARE to provide these deserving veterans – and baseball umpires – with the opportunity to see Major League Baseball games across the country over a special holiday weekend," said UMPS CARE Charities Executive Director Jennifer Skolochenko-Platt. "Most of the tickets were donated by Major League Baseball Umpires who wanted to ensure that these veterans got a chance to take in America's pastime in person over the holiday."
The veterans will receive goody bags, which include snacks, MLB rulebooks and UMPS CARE swag. All of the participants at the WWUA recent camp in Charlotte in June received UMPS CARE baseball caps. MLB Umpires Laz Diaz and Mark Carlson, who both served in the U.S.
Marine Corps, created special video messages for the veterans. Diaz and Carlson worked together on the umpiring crew for the 2020 World Series.
UMPS CARE wishes to thank the Cleveland Indians, Arizona Diamondbacks and the Washington Nationals for providing extra donated tickets for this event.
"We are honored to be recognized by UMPS CARE this Independence Day weekend," said retired Major Greg Wilson (U.S. Marine Corps), president and co-founder of the Wounded Warrior Umpire Academy. Our program gives veterans a renewed sense of purpose and belonging by getting them involved with baseball in their local communities. It is fitting that the WWUA is recognized this particular weekend because in a sense, we help them to regain their independence in society after they have fought for our country to keep its independence. In my opinion, there is no greater cause than honoring those who have protected our freedoms.
"Without them, we might not be able to receive quality medical care, own small businesses or even watch a baseball game," Wilson added. "Our servicemen and women are America's most valued asset and we couldn't be more proud to be working with UMPS CARE to recognize them this Independence Day."