Unfortunately the 2020 event had to be cancelled, and we look forward to next year's event.
West Coast 4th of July Tournament
2021 Dates TBA
Farmington, NM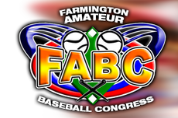 All of our Alumni are invited to join us for this year's 4th of July tournament hosted by FABC - home of the ConnieMack World Series
This is a fundraiser, and all proceeds go back into the WWUA
Lodging is provided and limited scholarships might be available for those who may need help with transportation. Food is each participants responsibility.
Come out to umpire some baseball
or just to be part of the weekend with other alumni.